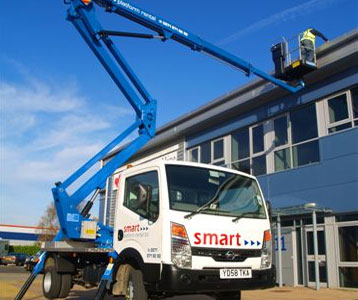 Truck Cherry Picker


When you hear the word 'truck cherry picker,' you cannot help but associate it with fruit picking. Most often, you'll think it's a truck that is used when picking cherries. In a way, you are right. But to be precise, a truck cherry picker is a type of elevating work platform that allows temporary access to hard to reach areas. Tall buildings, trees and posts are perfect examples of hard to reach areas. A person stands in the cherry picker and does his work. The hydraulic lift elevates him from the ground up. This invention was originally designed for orchard use since picking fruits that are way up high can be difficult. Up to the present, cherry pickers are still used being in orchards.


Users of Truck Cherry Pickers


Aside from picking fruits, the cherry picker is also used by firemen, cable and telephone companies, and electric and construction companies. A firefighter is only capable of climbing stairs and ladders, and a ladder can only go so high, thus a cherry picker is necessary in performing his duty. It also saves precious time that could be used to douse the fire. The same concept applies to cable, electric and telephone companies when they are installing or fixing lines. Construction companies also make use of this equipment for their projects. Even window washers and painters employ truck cherry pickers for easier cleaning and painting. Arborists can also use this type of utility truck when there are trees that are hard to climb.


Advantages of a Truck Cherry Picker


A truck cherry picker is otherwise known as a bucket truck or boom lift. The cherry picker is shaped like a bucket and the person stands in the bucket. He has his own set of controls so he can maneuver and position carefully. These trucks can reach a height of 70 feet or more. It also save time and money since the job will be done faster. The conventional ladder can take long periods for transportation and set up and its heights are limited as well. The operator can work safely and effectively since he will not have to worry about falling. Standing in the bucket is very convenient and will allow him to work faster.


Where to Purchase Truck Cherry Pickers


Ensuring the safety of your personnel must be your number one priority. Thus, it is wise to invest in a truck cherry picker for your company's use. A brand new one may set you back around $30,000 to $100,000. A used truck sells $20,000 more or less, depending on the engine and other specifications. Consider the transmission, make, reach, capacity, and fuel consumption. It may seem like a steep investment but you can recover the cost in the long run. You can also have it rented out, should the opportunity arise. There are many suppliers of brand new and used trucks online, and you can view pictures and ask questions through phone and email. However, you must inspect the cherry picker truck along with a mechanic before buying it.


↑ Top