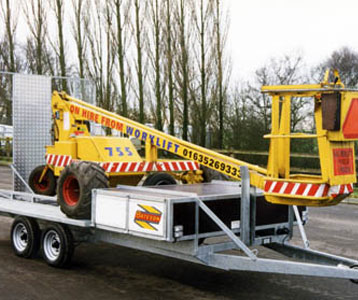 Cherry Picker Trailer


Cherry pickers have answered the needs of workers to reach greater heights—literally. Tall buildings, trees, and power lines are now more accessible. Cherry pickers can be mounted on a truck, forklift, trailer, or even on tracks. Most utility companies prefer trucks so that they can easily move the cherry picker from one place to another. Linemen can easily check power lines using a bucket truck. A warehouseman prefers a forklift cherry picker because it can move smoothly between narrow aisles. A cherry picker trailer, on the other hand, is ideal for outdoor sites and rough terrain. Mounting the cherry picker allows self-propulsion, and the trailer can navigate around the site without any problem.


Cherry Picker Trailer Features


A cherry picker trailer works the same way as any type of cherry picker. It is commonly used to take a worker to a high place safely. Its bucket has railings or cages to keep the worker inside. It also has hydraulic safety outriggers to keep it steady to ensure that the cherry picker will not jerk around. The cherry picker trailer can extend to a height of up to 40 feet to 90 feet. It is often electric powered to avoid objectionable fumes and noise associated with gasoline powered ones. Trailer-mounted cherry pickers are lightweight and make their transportation easier, using a pick-up truck or SUV to move it from one place to another.


Cherry Picker Trailer in the Market


Several models are being sold and offered for hire. Aerialift has recently introduced its Genie Trailer Mounted cherry picker. They have two models the TZ 34 and TZ 50 that can reach a height of 36 feet and 55 feet, respectively. LDC Industries has its UNILIFT Model 538 that has a telescopic boom while the UNILIFT Model 539 is an articulated boom lift. It is an electric cherry picker that is ideal for indoor and outdoor use. Its reach is 36 feet with a power jack outrigger for easier set up and can even be converted in to a boom crane. Denka Lifts has 4 models with vertical reach from 72 to 90 feet. This cherry picker trailer has built-in sensors that monitor weight overload and has a battery-driven hydraulic system. It also comes with a manual emergency lowering system.


Rent or Buy?


The purchase of a cherry picker requires a considerable cash outlay. It is an expensive piece of equipment. Should you decide to get one, it must be very essential to your business. If you are in the construction business, it might be wiser to get your own cherry picker trailer. It would be convenient to purchase rather than to rent. However, if you are going to use the cherry picker trailer sporadically, then it is better to rent. For instance, a landscape designer might need it for one of his projects. But since it won't apply to all projects, it would be impractical to purchase. There are many cherry pickers that you can rent for a specific period of time. By renting, you can also save on parts, maintenance costs, and operator training.



↑ Top