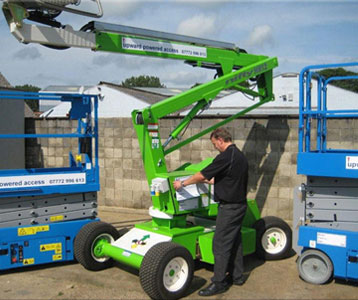 Cherry Picker for Hire


A cherry picker, also known as the Hydraladder, boom lift, or basket crane, is commonly used for aerial works. Cherry pickers are used for maintenance jobs like fixing telephone lines, electrical wires, and cable wires, as well as washing and cleaning windows. Cherry pickers are very efficient in reaching hard to reach locations, making such equipment ideal for both indoor and outdoor use.


Indoor versus Outdoor Cherry Pickers


Cherry pickers that are designed for indoors are mostly electric-powered, and are built with small tires that are especially designed for flat surfaces. On the other hand, cherry pickers for outdoor use are diesel-powered, mounted onto 4-wheel drive trucks that are ideal for terrain use. However, there are dual-use lifts, which are suitable for both outdoor and indoor jobs. These types of machineries are highly capable of using liquid propane for indoor work, as well as internal combustion engine for the outdoors.


Purchasing versus Hiring Cherry Pickers


Certainly, buying a cherry picker entails a high cost. These machineries however are available through various manufacturers, designers, retailers, suppliers, and other industrial companies. Many suppliers provide superior quality products as well as replacement parts and accessories. However, not everyone can afford to invest in cherry pickers and it wouldn't be practical for those who only need to use them occasionally to buy one. But for large businesses that will require the use of cherry pickers on a regular basis, it would be better to purchase a high quality and reliable cherry picker instead of just renting it.

Conversely, people who opt to hire cherry pickers can choose from several rental companies. A cherry picker for hire is available to fit every need and budget. Ideally, rental businesses offer daily, weekly, or monthly terms, while there are also those that offer hourly rates. In general, a cherry picker for hire may cost around $250-$400 on a daily basis or $1000-$1500 weekly. Larger models of boom lifts may cost more than the usual rate. Either way, individual needs will assess if hiring a cherry picker is more practical than buying one.


Telescopic Boom Lift and Articulating Boom Lift


A telescopic boom lift or stick boom is a type of cherry picker. It has long stationary arms, which can be positioned or angled in order to reach certain heights. This type can reach up to 120 feet, and are usually large in size. A 30-foot stick boom costs about $250/day or $1000/week for those who want to rent it. An articulating boom lift is likewise known as the knuckle boom. Typically, it has a hinged arm, which is capable of bending so as to move around obstructions like power lines or tree branches. A 45-foot knuckle boom lift may cost $300/day or $1100/week.


Cherry Picker Rental Companies


Keep in mind that a cherry picker for hire may have varied costs since rental companies have different rates. Some companies might require additional fees for delivery and pickup, which could range from $100 to $150. Moreover, companies offer several types of cherry pickers, along with varied rates and services. Rental companies like Pride Equipment Corp, Blakley Equipment, and Independent Aerial Equipment offer rental machines in Connecticut, Delaware, New York, Pennsylvania, Virginia, and other states.


↑ Top