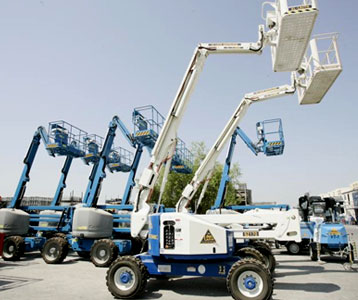 Crown Cherry Picker


Cherry pickers are machines used to take people to high and unreachable places safely. Many industries have benefited from using cherry pickers. Examples are orchards, electric and cable companies, and construction companies. The safety of a worker is dependent upon the quality of the machine. Should it malfunction and breakdown, lives could be placed in harm's way. There have been a number of incidents of fatal falls so to reduce the risks, it is important to consider the maker of the equipment. Particular industries have their own trusted brands. In terms of cherry pickers, the name Crown is known for excellence in terms of design, products and services. Crown is an electric-powered lift manufacturer that is well known all over the world as a leader in product design and innovation.


Crown Cherry Picker History


Crown was started in Ohio, USA in 1945. It began its operations in one room where they manufactured temperature controls that are essential for burning furnaces. The product became obsolete so they branched out to antennae rotators in 1949. When this became obsolete as well, they proceeded to manufacture and repair mechanical and electronic components of different private and government industries. They succeeded in this area and decided to diversify into lift truck manufacturing in 1957. From then on, Crown has established itself as the premier producer of electric cherry pickers in the United States. It is also known as one of the largest lift truck manufacturers in the world. This company is widely known for its quality products, services and training.


Products and Services Offered


Crown makes hand-pallet trucks, both pedestrian and powered, mid and high level reach trucks, work assist trucks and tow tractors, to name a few. The products are electric and are ergonomically designed to fit into most warehouses and factories perfectly. The "Very Narrow Aisle Turret Truck" is ideal for small spaces in the warehouse. The "Wave Work-Assist Vehicle" is the perfect cherry picker. It is compact but it ensures productivity. It is also much safer than using ladders. Crown also has spare parts available should your equipment need it. Aside from these, they offer training for employees who will operate the Crown cherry pickers. They are taught how to operate the machines safely.


The Crown Cherry Picker Guarantee


When you or your company will purchase a Crown Cherry Picker, you are guaranteed of a high quality and well made equipment. From the product, to the parts and after-sales service, maintenance check-ups and training, Crown promises excellence. The amount you will invest will definitely be worth it. You will find increased productivity and efficiency in the workplace because your employees are going to be equipped with the proper machinery. They will be able to carry out their tasks properly and they are assured of a safe work environment. There is a reason why Crown is America's #1 manufacturer of cherry pickers. They are simply the best in the industry. Their years in service are enough to assure you that you made the right choice.


↑ Top