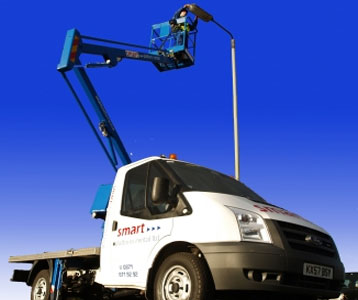 Cherry Picker Rent


Cherry pickers, also known as boom lifts or basket cranesaresimple work platforms that operatethanks to the presence of a hydraulic system. A cherry picker is usually mounted at the back of a truck or a pick up van. The platform's edge usually has a bucket,where a single person can fit along with a few objects. Other platforms are mainly made to transport heavy objects and materials. Cherry pickers have become an essential tool in construction and repair sites. Small companies usually prefer to rent a cherry picker, rather than buy one, because they can be extremely expensive.


Use of Cherry Pickers


Originally, cherry pickers were mainly used in orchards. Nonetheless, with time and advanced technology, manufacturers have developed a variety of cherry pickers that can serve different purposes.Nowadays, cherry pickers are used by electricians, construction workers and technicians. Window cleaners also make use of the cherry picker to help them do their jobs on houses and buildings; however, most window cleaning companies own their own fleet of vehicles. Cherry pickers may also be used when removing roofs and when paintingthe exteriors. Typically, you will find a cherry picker in most construction sites, since they offer an easy way to elevate heavy materials. They can also be used to carry one person at a time, to reach elevated surfaces. Smaller cherry pickers can be used within factory premises, in order to reach objects that are stacked up high.


Where to Rent Cherry Pickers


Cherry picker rent options are available in many different cities and districts in the United States. The prices for renting one may vary depending on the model or make of the cherry picker. This also will depend on the duration for which it will be rented and used. Cherry picker rent services are also available with the professional services of an operator. If a customer does not have a trained cherry picker operator in their staff, they can hire the services of one; an additional fee will be charged. The operator should be capable of handling the controls, which are used to manipulate the height and position of the bucket or platform. Large rental companies, such as Ahern Rentals and United Rentals, have branches all over the country. You can contact them directly for their current prices.


Cherry Picker Rent Rates


Cherry picker rent rates vary depending on the type or model of the equipment. Some rental companies offer the rent of cherry pickers for as low as $100 per hour for a minimum of 2 hours. If you're looking to rent a cherry picker for a week, you may be looking at paying $600 for a 45-foot cherry picker; in some cases the delivery fee will be included.However, most cherry picker rental companies will provide the delivery and pickup of the machinery for an additional fee. Another fee that is associated with cherry picker rental is the insurance fee. Since these machines are considerably expensive, most agencies want you to pay an insurance fee that will cover any damage done to the cherry picker. Insurance fees also vary from agency to agency.



↑ Top