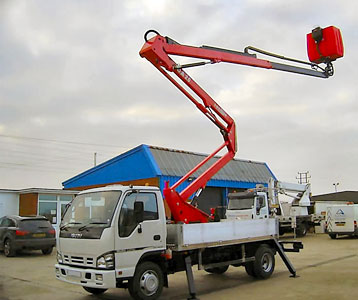 Rent a Cherry Picker


A cherry picker is a type of aerial platform that allows a person to reach a certain height, when performing various tasks. Originally designed for the use in orchards, you can rent a cherry picker to be used for exterior painting, window cleaning, and managing of electrical devices and wires on utility poles for telephones, cable, and other electrical wiring. Also known as a man lift, boom lift, or 'hydraladder', a cherry picker can be used in construction sites and warehouses. Companies that are in sporadic and temporary need of a cherry picker prefer to simply rent it instead of buying it.


Insulated Cherry Pickers for Rent


Depending on the purpose of your rental and your location in the U.S., you can rent a cherry picker based on the type, size, and operation needed. An electrically insulate cherry picker is commonly used for the maintenance or repair of electronic wires on utility poles. Unlike other types of cherry pickers, this one reduces ground fault, which in turn protects the person on the platform from possible electrocution. It's built with insulated fiber glass, and the controls are made with fiber optic cables. The hydraulic hoses are also nonconductive, which reduces ground fault.


Places for Cherry Picker Rentals


If you are looking to rent a cherry picker in the United States, there are several reliable companies that offer affordable rental packages based on an hourly, daily or weekly basis. If you choose to rent a cherry picker from a company that is not located in your vicinity, you may inquire whether they provide delivery and pickup service to your area. If the rental company is located in your area, some may provide the delivery and pickup service for free. On the contrary, they may charge you an additional fee, depending on how long you will be renting the cherry picker for. Hourly rates may start at $100 per hour with a minimum of 2 hours, and can easily reach up to $600 (if you will be renting on a weekly basis). You may also check the websites of large rental agencies, such as United Rentals and Hertz, for further information.


Additional Cherry PickerInformation


Before choosing to rent a cherry picker, take note of the different types that are available. You should also know the approximate height on which you will be using the cherry picker. The minimum height capacity of a cherry picker or boom lift is at 20 feet, and other models have a maximum capacity of up to 120 feet. The platform or bucket dimensions may also vary, with 72 by 30 inches being the largest. The maximum weight capacity of a cherry picker rounds between 4,000 and 10,000. After you have taken note of these important details, you may start contacting home improvement centers and cherry picker rental companies to compare their prices based on the given criteria. If it's convenient, you may also visit their branch locations to see the actual cherry pickers and compare it with those from other rental places.



↑ Top