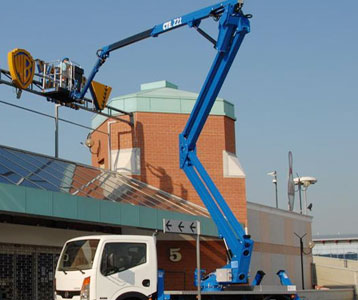 Cherry Picker Machine


Cherry pickers are gaining popularity in many industries throughout the world. With structured designs and technologically advanced functions, cherry pickers provide ultimate results in the transportation, logistics, telecommunication, and construction industries. Certainly, this effective machinery has generated huge demands in both national and international firms.


The Basic Design


A cherry picker machine is typically mounted at the back of vehicles such as a van, pick-up, or truck. Sometimes, it is mounted on self-moving platforms or stand-alone trailers. It has a hinged lifting arm with a bucket or basket at the end, wherein a person or materials are transported to certain levels or heights. The basket or bucket has a set of duplicate controls in order for the operator to manipulate his position. Some cherry pickers have telescoping lifting arms and automatic safety controls so as to avoid the basket from tipping over.


Essential Use and Purpose


Originally, cherry pickers were used to aid fruit pickers in orchards, allowing them to reach fruits from tall trees with relative ease. Today, these machines are very efficient in reaching utility poles, banners, light displays, roofs, windows, and the like. Similarly, fire departments make use of cherry pickers as a great alternative to ladders and cranes. Exterior painting jobs, construction sites, as well as mining companies utilize cherry pickers in their day-to-day activities. A cherry picker machine is likewise used in the entertainment industry, as part of their production tools. This machine handling equipment is very useful in television and film productions, including outdoor performances, concerts, and other related projects.


Should You Buy a Cherry Picker Machine?


Nowadays, there are numerous companies that design, manufacture, and sell cherry pickers. Purchasing one is surely a huge investment for anyone to make. Perhaps, buying a cherry picker is the best option for businesses that require the use of cherry pickers to ensure a stable and safe operation regularly. It is also a possible investment for homeowners who carry out their home repairs and other domestic projects themselves. Most of the companies that sell cherry pickers also offer equipment for rent. So hiring a cherry picker might be a practical option others, if it will only be used for a certain period of time.


Average Cost of a Cherry Picker Machine


Most people know that a cherry picker is quite expensive. But there are many companies that sell different styles of cherry pickers at different prices. The equipment's cost will always depend on the model or type of machinery that an individual would want to buy, along with the features that it comes with. Ideally, a cherry picker machine will cost around $25,000 to $50,000 for small to medium sized models. The types with high-end designs and functions may cost up to $100,000 or even higher. Used cherry pickers are likewise available and they are significantly cheaper, costing about $10,000. Many reputable cherry picker suppliers online and offline sell reliable brands such as Niftylift Nifty, Leguan, SkyTrak, Snorkel, Genie, JLG, and Upright to ensure customer satisfaction.


↑ Top