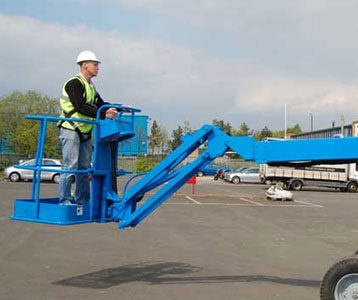 Cherry Picker Operator


Only knowledgeable, skilled, and well-trained workers operate cherry pickers. Typically, a cherry picker operator undergoes a certain training in order to familiarize himself with the machine, and be able to ensure proper handling and safety.


Basic Job Description


A cherry picker operator controls the mechanical cable and cable equipment, the lifting and moving of materials, products, other machines in different directions and heights. His job is categorized in the 'Crane and Tower Operators.'

Cherry picker operators have a varied scope of work, depending on their location as well as the industry that they belong to. Some companies mandate specific duties of an operator however most companies impose a set of standards for what an operator needs to do while controlling or operating a cherry picker. Here are some of the responsibilities of a cherry picker operator:

• Controls machines with either direct physical activity or control mechanisms.

• Moves levers, controls foot pedals, and operates cranes, electromagnets, and other equipment for moving, lifting, or placing loads.

• Inspects or adjusts crane mechanisms to prevent malfunctions and damages.

• Inspects grappling devices, as well as installs or replaces needed cables.

• Identifies load weights, ensuring weight capacity is achieved in order to prevent overload.

• Properly maintains mechanisms like pulleys, cables, grappling devices and conducts repairs if necessary.

• Loads and unloads equipment from trucks, and moves containers to desired areas with the use of a cherry picker.

• Reviews everyday work, checks delivery schedules, and determines orders, as well as follow special delivery instructions.

• Weighs delivery items or products and records accurate weights, as well as secure each load for delivery.

• Assists drivers in backing trucks, vans, pick-ups, and other vehicles into loading bays.

• Inspects packaging in accordance to regulations and/or customer requirements.


Job Qualifications


It is very important that a cherry picker operator must have the necessary knowledge and skills in the fields of mechanical, mathematics, building and construction, as well as in public safety and security. He must have adequate knowledge of the machines, tools, designs, and uses, including repair and maintenance works. Moreover, an operator should have at least a background in algebra, geometry, arithmetic, statistics, calculus and their applications. Cherry picker operators should also be familiar of the materials and methods involved in the repair and construction of houses, buildings, roads, and highways. Most of all, they should be aware of the relevant policies, strategies and procedures so as to ensure the safety of people, property, and institutions. All in all, cherry picker operators must be skilled in the aspects of operations, controls, and monitoring and must have good reading comprehension and critical thinking abilities.


Average Wage of a Cherry Picker Operator


There is no specific salary data for a cherry picker operator since the career placement falls under the 'Crane and Tower Operators' category. Thus, the median hourly wage for an operator would be about $24 or a median annual wage of $49,980. Today, both national and global industries have increased their demands for operators, so you can very well say it is a reliable and stable employment opportunity.


↑ Top