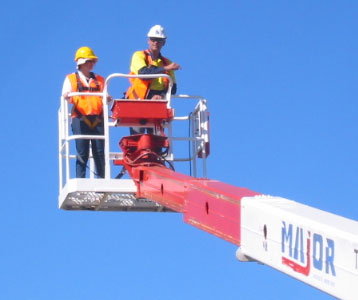 Cherry Picker Training


Before anyone can operate a piece of machinery, he or she must have proper training. The good thing about operating a machine is that you do not need four years of schooling to learn it. Most training courses only take several days to finish and then you are issued a training certificate. That applies to operating cherry pickers as well. Operating a cherry picker is a dangerous and risky job if the worker is not well trained and experienced. If you are interested in this line of work, enroll in a training school accredited by the US Occupational Safety and Health Administration. The law requires that you need to have training before you are allowed to operate a cherry picker. That means you will not be hired by anyone if you are unable to present a training certificate.


Where to Get Training and its Cost


If you are a first timer, it might help if you search online for a training center that offers certification program. Make sure it is accredited by the US Occupational Safety and Health Administration so that the certificate you receive will be accepted all over the country. In choosing the right training center, don't forget to consider the course agenda and the costs. Some are offered for as low as $50 only. Nevertheless, make sure you choose an outstanding training center. Take time to read student feedback and reviews so that you can judge the ability of their trainers. Also choose one with partner companies that you can apply for on the job training. Gaining experience can be very valuable in landing a job.


What to Expect in a Cherry Picker Training Course


The first step in the cherry picker training is the registration. Expect to learn many things in the training. The course includes learning basic concepts of operating the cherry picker. It will include work safety, understanding cherry picker capabilities, controls and inspection plus emergency systems. You will also be given study materials. You may be shown videos of actual cherry picker operation. You will also be made aware of injuries and accidents that can happen to a worker who does not follow safety guidelines. Hands-on training follows. After the course, there is a written and practical examination. When you pass both tests, you are given the training certificate. Because it is a short course, you won't have much time for practical training so you can continue your training on the job.


Advantages of Taking a Cherry Picker Training Course


It is important to undergo cherry picker training because the work involved is very risky. Falls and accidents are inevitable when operating and handling a cherry picker especially when care is not exercised. Consider the fact that a cherry picker is operated to reach very high places. It is important that you are well aware of safety measures and know the limitations and capacity of a cherry picker. Having certification or a license also gives you an edge over those who don't. You will find employment right away since the job is in demand. You can even get promoted to a higher position because you can teach and train other workers to use the cherry picker safely and properly.


↑ Top