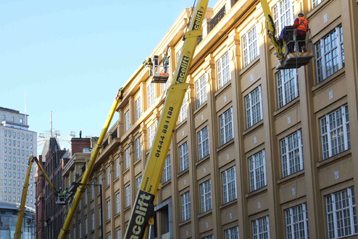 Underbridge Cherry Picker


When it comes to measuring the efficiency of under bridge cherry pickers, safety is one very important thing which must be taken into consideration. Safe use of under bridge cherry pickers, also known as booms, involves the prevention of falls from the basket, tipping over of the machinery and electrical shocks to the operator and any others who might be accompanying him.

Under bridge cherry pickers should not be used near any live electrical equipment. Anyone who is the least bit familiar with electricity will know that there is the possibility that the electricity might flow via metal contacts between the two. As such, it is crucial that, should the job call for any work near electrical wires or machinery, only properly trained personnel should be used. As far as possible, the electricity supply should be shut off and there should be a ten foot radius between any exposed power lines and workers. Design elements such as insulated bucket should have been properly installed and under bridge cherry pickers need to be grounded.

Under bridge cherry pickers are also prone to tipping over if proper procedures aren't followed. It is tempting to think that these potentially huge machines can handle any type of terrain. This is not so. Close attention needs to be paid to the level of the ground to ensure that there is no leaning. Also, under bridge cherry pickers shouldn't be moved once the arm is extended and this can create an imbalance. As with the use of any large piece of machinery, the correct warning signs should be put into place to minimize the risk of collisions.

Perhaps the biggest risk faced by those using under bridge cherry pickers is falling off the platform or from the bucket. Working on these machines constitutes working at a height and the necessary precautions must be observed. This includes the provision of safety harnesses to workers. Employees also need to be trained in what to do, such as not leaning over too much and the importance of following approved procedures.

Damage to both people and property can also be caused if the under bridge cherry pickers aren't kept well maintained. As such, there are some safety guidelines which must be followed:
The owner of the machine should have the proper licensing.
Under bridge cherry pickers should have regular maintenance checks and records kept of all findings.
A person who is responsible to for ensuring compliance with inspection laws must be named.
The operator should be familiar with all manufacturers' warnings and should know the user's manual inside out.
It is very important that all safety precautions are followed when using under bridge cherry pickers. Not only must the workers' wellbeing be considered but there is also the potential to lose money. Improper use of under bridge cherry pickers can result in hefty fines from the governing safety body, not to mention the possibility of having the work site shut down completely. It is better to do the right thing up front than have to pay for doing the wrong thing later.


↑ Top