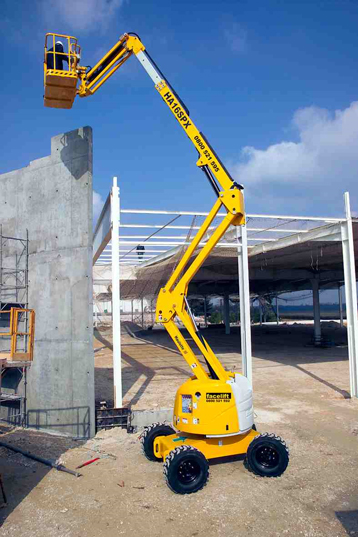 Self Propelled Booms


Boom lifts are a type of cherry picker and they come in a number of varieties, from those that need to be hauled around by trucks to self propelled booms. Anyone who is the least bit familiar with cherry pickers knows how versatile these machines actually are and how many different applications they have in modern day life. This is the reason why there are so many types of boom lifts.

Boom lifts, including self propelled booms, are a bit unlike other cherry pickers in that they are designed to accommodate a smooth 360 degree of movement of the suspended bucket on the arm, both in the horizontal plane and the vertical plane. This is because they have a joint which allows a larger range of motion than other cherry pickers, which are usually functional in only one plane. This makes machines such as self propelled booms ideal for jobs in hard to access areas like roofs. Letís have a look at the different types of boom lifts.


Self Propelled Booms:


Self propelled booms are a good option for long term rental or purchase as they can be used for many different purposes. As the name suggests, self propelled booms move of their own volition, without the need for being mounted on a vehicle. They are typically smaller units and can be controlled by the operator in the basket. This eliminates the need for having to come down and reset the machine every time one needs to move to another spot. Their small size makes them fairly quick and very convenient. Self propelled booms such as the Haulotte Star 10 and the Haulotte HA16SPX are popular choices at construction sites.


Truck Mounted Booms:


Unlike the self propelled booms, these lifts are mounted unto the body of a truck as a means of transport. They are typically larger since they have more of a support structure. As with self-propelled booms they are good for working in areas where multiple heights must be visited, such as fixing street lights. There is some level of variation in that the basket size can be made to fit a few workers or widened to fit work equipment. Standard sized truck mounted booms can be driven by someone with a regular truck license. Larger boom lifts, typically exceeding 3.5 kg, must be handled by a trained operator.


Specialist Boom Lifts:


While truck mounted and self propelled booms serve a variety of functions, there are instances when a more specialized piece of equipment is needed. This has led to the design and manufacture of machines specifically for areas such as rough terrain. Some of these can be outfitted with caterpillar tracks instead of tires. There has also been the development of narrow access platforms for use in places where there is not enough room for a regular boom lift. Models such as the Mantis 29 are designed so that they can be used in busy commercial areas and are typically battery operated to cut down on the fumes and noise.


↑ Top