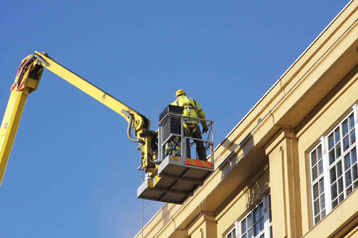 Road Towable Cherry Picker


There are many different types of cherry pickers, each with its own unique set of features. Some of them are capable of running by themselves, while others require another vehicle to act as a means of transport. Road towable cherry pickers fall into this category. Aptly named, road towable cherry pickers are meant to be moved by being towed, usually by a truck or a van.

Road towable cherry pickers are also known as hydraladders or basket cranes. As with other cherry pickers, they operate on the basis of hydraulics. The top of the lift consists of either a broad platform or features a bucket-like container. Since these lifts are not self-propelled it does not make sense to use them for jobs where a lot of movement between work spaces is required as this can be very time consuming. However, there are some features of the buckets which make road towable cherry pickers popular.
While the bucket is enclosed in most cases, this is only up to a certain point so the operatorís upper body still has full freedom of movement. There is no need for the operator to get out of the lift in order to complete his job.


The buckets of road towable cherry pickers are typically insulated. This is done to prevent the possibility of electrical shock, especially in instances when the operator is working alone and may not be able to signal for help.


Some road towable cherry pickers have dual control systems while some have only one which is located on the basket. This allows the operator to move the bucket into place by himself. Where a dual control is installed, a secondary operator can help with movement, leaving the worker in the bucket free to concentrate on the task at hand.
Road towable cherry pickers are usually fairly light although there are some larger models which are designed to be transported by trucks and trailers. They are typically cheaper to rent than truck mounted cherry pickers and can be left in one place for a long time if extensive work is to be done. For this reason, those who can afford it may choose to buy road towable cherry pickers as opposed to renting them.

This may cost more, but if road towable cherry pickers are to be used often and for long durations, it may cost less in the long run. It is important to note that road towable cherry pickers were made to be transported, as suggested by the name, on the road. They are typically not able to be towed over rough terrain and can be damaged by this process. Therefore, if the ground surface is uneven, an alternative means of transport would have to be used, such as on the back of a truck. In this case, it might just be better to invest in another type of cherry picker, such as the truck mounted version. As long as transport isnít an issue, road towable cherry pickers are a reliable, affordable option for these who need to safely reach high places.


↑ Top