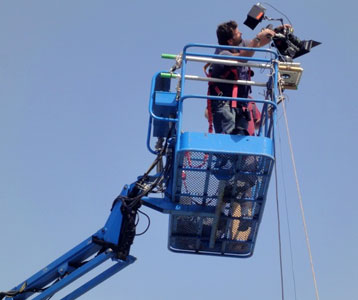 Cherry Picker Hire Phoenix


Cherry pickers can be highly effective when performing several tasks. They are specially used in construction and maintenance sites. Phoenix, one of the fastest-moving commercial areas of the Arizona area, is located in a region with high demands for aerial equipment, such as cherry pickers. You will find nationwide rental agencies with more than one branch in the Phoenix area, as well as several other local agencies. If it's time to start your many construction projects, be sure to check the different cherry picker models that are available for rental. You can rent them on a daily, weekly or even monthly basis.


Arizona Hi-Lift Cherry Pickers


Arizona Hi-Lift is one of the cherry picker rental agencies that service the Phoenix area. Their catalogues include scissor lifts, aerial lifts and forklifts for rent. They proudly deliver superb customer service and technical support any time of the day. In case that an unexpected incident takes place, they will make sure to be there to assist you as soon as possible. In case that you're unsure on what cherry picker to hire, Arizona Hi-Lift will help you choose one based on the needs and specifications of your project. In addition to cherry picker rentals, they offer training and certification courses online. This means that if you're thinking of hiring a cherry picker operator, you can have him or her, take the online course and become certified. Make sure to give them a call to their toll free number and book your cherry picker rental today.


Ahern Rentals in Phoenix


Certainly, most construction project coordinators have heard of Ahern Rentals. They are one of the largest cherry picker rental companies in the continental U.S.They count with numerous branches in the majority of the states, and the city of Phoenix is no exception. Their inventory counts with almost 39,000 items available for rental, and if you have a bit of difficulty deciding which cherry picker will meet your needs, Ahern can help you sort it out. They are located on the Black Canyon Highway; you can contact them by calling their toll-free number or talk to them on Skype! Ahern makes sure to stay up to date with the modern forms of communication; that's why you have the freedom to chat with them on their web, call them on Skype or visit their branch in person if you prefer.


United Rentals and Hertz Equipment


In addition to Ahern, United Rentals and Hertz Equipment are also large cherry picker rental companies that have branches in the entire country. They also happen to be present in Arizona, where they offer their assorted fleet of cherry pickers. You can visit their websites to locate the equipment you're interested in. If you take a look at United Rentals' website, you will find a box that allows you to search for a specific type of equipment, such as cherry pickers. When it comes to Hertz, you will find a similar way to search for cherry pickers. Both sites will give you the option to create your own online account, to manage your cherry picker rentals faster and easier.



↑ Top