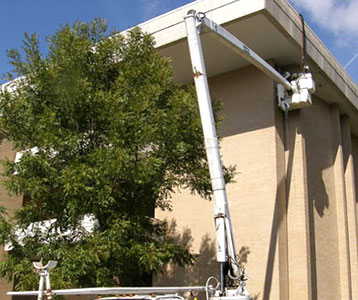 Cherry Picker Hire Houston


Texas is one of the wealthiest states in the country. In a recent study, it was found that Texas is the only state that wasn't deep in depth, in comparison to the rest of the United States. Proof of this is the fast-moving construction industry in Houston and other large cities. That's the main reason for the variety of cherry picker rental agencies in the Houston area. Whether you need an articulated boom lift or an electric scissor lift, you will surely find the right one for your project. Make sure to request pricing quotes from several cherry picker agencies in Houston, before settling with one contractor.


Aerialift Cherry Pickers


Aerialift has been servicing the Houston area for more than 25 years now. They offer an assorted catalog of cherry pickers, which includes the following:

• Scissor lifts for rough terrain
• Articulated boom lifts
• Personnel lifts
• Reach forklifts
• Vehicle-mounted lifts

They not only offer different types of equipment for rental, but they also make sure to assist their customers in the search of the right cherry picker. It doesn't matter if you're planning to move considerably heavy materials, or simply elevate one person to repair the roof of a house or building;Aerialift has the right cherry picker for your needs. Their website has a form that you can fill out with your personal information; they should contact you at their earliest convenience to discuss rates and availability.


Equipment Depot Houston


Equipment Depot has been providing cherry picker rentals in the Houston area for over 45 years. They are conveniently located east of Airline, and they also offer training for the proper operation of cherry pickers. Whether you need a boom lift or a scissor lift, Equipment Depot has it. They carry different brands, such as:

• Clark
• Linde
• SkyTrak
• Genie
• JLG
• Terex

All of their fleet is submitted to a 30-point inspection, which makes sure you are given a fully functional cherry picker. Their main goal is to keep all of their customers satisfied and happy. On their website, their contact information is readily available. Whenever you have cherry picker questions, be sure to simply give them a call or shoot them an email. They should reply to your concerns as fast as they can.


Volvo Rents Houston


Volvo Rents Construction has an assorted fleet of cherry pickers and construction equipment. They serve the Houston area, as well as Sugar Land, Baytown and Huntsville. You can expect them to be extremely helpful when it comes time to choose a cherry picker for your project. They are aware that happy customers mean long-lasting relationships. Their cherry picker equipment includes the following:

• Straight boom lift – provides superb horizontal reach
• Scissor lift (regular and electric) – may be used as scaffolds
• Knuckle lift – operates on motors or engine
• Bucket truck – perfect for elevated wire maintenance

In addition to awesome cherry pickers, Volvo Houston also strives to stay up-to-date with the latest technology advancements. If you are an avid smartphone user, you'll be happy to know that Volvo offers a mobile application for your phone. This should give you better access to their cherry pickers information.



↑ Top