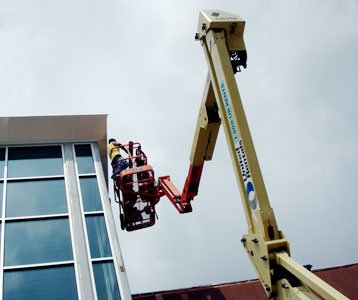 Cherry Picker Hire FAQs
Q: How can I find the closest cherry picker rental location?


The majority of the time, this is based on your own needs as the cherry picker renter. If you're looking to rent your cherry picker from a large nationwide company, you can log on to their website. Some of the companies with presence all over the United States are United Rentals, Hertz and Ahern. You can log on to their website and use their "branch locator". This tool is extremely easy to use, and you can search by zip code or city and state. Once you hit enter, you will see a list of the cherry picker rental branches that happen to be the closest to your current location. You will see contact information, such as an email address, street address and phone number for you to contact them at your earliest convenience.


Q: Am I obligated to purchase cherry picker insurance?


Insurance payment depends on the cherry picker agency you decide to hire. In some states, it's basically mandated by the local regulations to do so. In some cases, the very same rental agency will quote you a price that already includes the fee for the insurance coverage. Nonetheless, it's highly advisable that you choose to pay for the cherry picker insurance. Even though nobody wants accidents to happen, sometimes they're simply unavoidable. In such cases, it comes in handy to have an insurance plan that will take care of the damage. In addition, make sure to discuss and be clear of what is covered under the insurance. Sometimes the cherry picker agency will give you a variety of plans where to choose from.


Q: Can I rent a cherry picker just for a day?


Yes. The majority of cherry picker rental agencies will provide you with fees that are based on daily, weekly or monthly usage. The length of time will be determined by you, the customer. Keep in mind, though, that when you rent a cherry picker for a week or months, the agency will most likely provide you with attractive discounted prices. It's important to review your project prior to renting or requesting a price estimate from an agency. This is due to the fact that it's important that you are aware of the specifications of your project, since this will determine the capacity that you need the cherry picker to have.


Q: Are cherry pickers safe?


Yes. Cherry pickers come in different types of equipment, such as boom lifts and scissor lifts. Even though there are numerous manufacturers, they are all engineered with top-notch technology. They work based on a superb hydraulic system, and have the capacity to lift up to 10,000 lbs. Don't forget, however, that only certified or highly trained operators should manage your cherry pickers. This is done to reduce the risk of an unnecessary accident, and to assure the proper usage of the rented cherry picker. Proof of how safe they are is the wide usage of cherry pickers in fire departments and telephone repair crews.


↑ Top